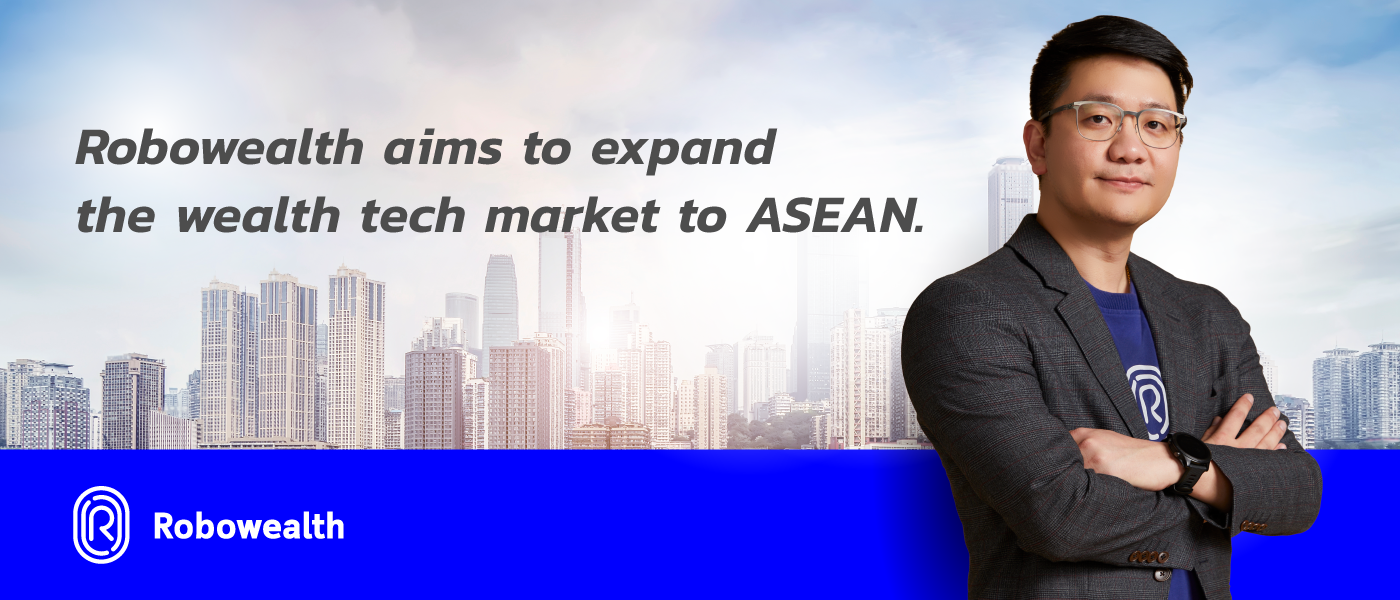 Under "Covid" vitalizing the "Digital" investment trend, "Robowealth" charges ahead to new platforms development offering both "B2B & B2C". We are gearing up for series B fundraising by year-end and expanding to the international market by securing global partners in "Vietnam-Indonesia," solidifying its leadership in Wealth Tech.
Mr.Chonladet Khemmarattana, CEO of Robowealth Group, reveals that the covid-19 pandemic has shifted investors' behavior towards digital channels and viewed investment as savings for future use. This global trend helps wealth tech service providers to thrive.
We are setting the stage for the investment platforms.
Robowealth group divides its revenue structure into B2C and B2B businesses. The B2C (business-to-consumer) side covers three platforms, including
1. odini robo-advisor. Investors inject funds into the system to be automatically managed in correspondence to their risk appetite, starting from only 1,000 THB to be attractive to the masses. odini BLACK provides more granular management with diversification to global markets. This is to appeal more to mass affluent segments with an initial investment of 500,000 THB.
2. FinVest platform, in collaboration with Kasikorn Bank, differentiates itself from odini with content snippets to help customers make investment decisions. The platform is fast-growing as it turns both existing Kasikorn and new customers into its user.
3. Ascend Wealth, in collaboration with Ascend Money to provide investment services in the current "TrueMoney" application with over 15 million users nationwide.
Revenue boost with diversified revenue streams.
The B2B (business-to-business) side operates under the name Codefin within the Robowealth group provides services to meet the requirements of other institutions.
"We have two income streams, including the B2C business which derives its income directly as fees from investment platforms and B2B business which develops system to meet partners' needs where revenue could be one-offs or periodic maintenance fees. As the current leader of Wealth Tech and a partnership from both B2B and B2C, we plan to add new platforms in the future, and we hope to become the main channel of investment for Thais."
Fundraising series B to breach international markets
Mr.Chonladet describes the Robowealth group's direction for the 2nd half of 2021 as emphasizing balancing B2B and B2C portfolios. This can be achieved by standardizing the B2B services and expanding the customer base of each brand. Additionally, as the B2C side strengthens, it will expand its coverage through all available channels by focusing on marketing activities.
"We are preparing to raise funds series B, which are expected to conclude by year-end. Currently, we are negotiating with both Thai and foreign investors after receiving series A funding from Beacon Ventures, the corporate VC of Kasikornbank PLC."
Series B aims to expand business internationally, where the first phase will involve collaboration with local partners in Vietnam and Indonesia. The Vietnamese market has enormous room for growth due to the lack of platforms for wealth management services. On the other hand, Indonesia is an attractive market despite many market participants due to the large population and confidence in business competitiveness.
"The main goal is to expand the business internationally with hopes that we'll become the ASEAN's leading digital investment service provider within 3-5 years. We believe that our experience and capability will propel us to succeed in expansion to Vietnam and Indonesia and furthering our coverage to all of ASEAN."
Credit : Prachachat Turakij